Research Methods
Differentiate between five kinds of research methods: surveys, ethnographic field research, formal and informal interviews, historical secondary data analysis, and content analysis.
Understand why different topics and research questions are better suited to different research approaches.
Sociologists examine the world, see a problem or interesting pattern, and set out to study it. They use research methods to design a study—perhaps a detailed, systematic, scientific method for conducting research and obtaining data, or perhaps an ethnographic study utilizing an interpretive framework. Planning the research design, or research protocol, is a key step in any sociological study.
When entering a particular social environment, a researcher must be careful. There are times to remain anonymous and times to be overt. There are times to conduct interviews and times to simply observe. Some participants need to be thoroughly informed; others should be more informally informed that they are being observed.
A researcher wouldn't stroll into a crime-ridden neighborhood at midnight, calling out, "Any gang members around?" And if a researcher walked into a coffee shop and told the employees they would be observed as part of a study on work efficiency, the self-conscious, intimidated baristas might not behave naturally. This is called the —where people change their behavior because they know they are being watched as part of a study. The Hawthorne effect is unavoidable in some research. In many cases, sociologists have to make the purpose of the study known. Subjects must be aware that they are being observed, and a certain amount of artificiality may result (Sonnenfeld 1985).
Making sociologists' presence invisible is not always realistic for other reasons. That option is not available to a researcher studying prison behaviors, early education, or the Ku Klux Klan. Researchers can't just stroll into prisons, kindergarten classrooms, or Klan meetings and unobtrusively observe behaviors. In situations like these, other methods are needed. All studies shape the research design, while research design simultaneously shapes the study. Researchers choose methods that best suit not only their study topic but how the actual question is framed as well.
In planning studies' original research designs, sociologists generally choose from five widely used methods of social investigation: survey, ethnographic field research, formal and informal interviews, historical secondary data analysis, and . Every research method comes with assets and limitations, and the topic of study, and specific research question strongly influences which method or methods are put to use.
Surveys
As a research method, a collects data from subjects who respond to a series of questions about behaviors and opinions, often in the form of a questionnaire. The survey is one of the most widely used scientific research methods. The standard survey format allows individuals a level of anonymity in which they can express personal ideas.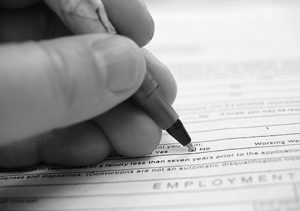 At some point, most people in the United States respond to some type of survey. The U.S. Census is an excellent example of a large-scale survey intended to gather sociological data. Not all surveys are considered sociological research, however, and many surveys people commonly encounter focus on identifying marketing needs and strategies rather than testing a hypothesis or contributing to social science knowledge. Questions such as, "How many hot dogs do you eat in a month?" or "Were the staff helpful?" are not usually designed as scientific research. Often, polls on television do not reflect a general population, but are merely answers from a specific show's audience. Polls conducted by programs such as American Idol or So You Think You Can Dance represent the opinions of fans but are not particularly scientific. A good contrast to these are the Nielsen Ratings, which determine the popularity of television programming through scientific market research.
Sociologists conduct surveys under controlled conditions for specific purposes. Surveys gather different types of information from people. While surveys are not great at capturing the ways people really behave in social situations, they are a great method for discovering how people feel and think—or at least how they say they feel and think. Surveys can track preferences for presidential candidates or reported individual behaviors (such as sleeping, driving, or texting habits) or factual information such as employment status, income, and education levels.
A survey targets a specific , people who are the focus of a study, such as college athletes, international students, or teenagers living with type 1 (juvenile-onset) diabetes. Most researchers choose to survey a small sector of the population, or a : that is, a manageable number of subjects who represent a larger population. The success of a study depends on how well a population is represented by the sample. In a , every person in a population has the same chance of being chosen for the study. According to the laws of probability, random samples represent the population as a whole. For instance, a Gallup Poll, if conducted as a nationwide random sampling, should be able to provide an accurate estimate of public opinion whether it contacts 2,000 or 10,000 people.
After selecting subjects, the researcher develops a specific plan to ask questions and record responses. It is important to inform subjects of the nature and purpose of the study up front. If they agree to participate, researchers thank subjects and offer them a chance to see the results of the study if they are interested. The researcher presents the subjects with an instrument, which is a means of gathering the information. A common instrument is a questionnaire, in which subjects answer a series of questions. For some topics, the researcher might ask yes-or-no or multiple-choice questions. These are closed questions. These questions allow subjects to choose possible responses to each question. This kind of —research collected in numerical form that can be counted—are easy to tabulate. Just count up the number of "yes" and "no" responses or correct answers, and chart them into percentages.
Questionnaires can also ask more complex questions with more complex answers—beyond "yes," "no," or the option next to a checkbox. In those cases, the answers are subjective and vary from person to person. These questions are called open questions. How do plan to use your college education? Why do you follow Drake around the country and attend every concert? Those types of questions require short essay responses, and participants willing to take the time to write those answers will convey personal information about religious beliefs, political views, and morals. Some topics that reflect internal thought are impossible to observe directly and are difficult to discuss honestly in a public forum. People are more likely to share honest answers if they can respond to questions anonymously. This type of information is —results that are subjective and often based on what is seen in a natural setting. Qualitative information is harder to organize and tabulate. The researcher will end up with a wide range of responses, some of which may be surprising. The benefit of written opinions, though, is the wealth of material that they provide. Surveys, therefore, often result in both quantitative and qualitative data.
Interviews
An is a one-on-one conversation between the researcher and the subject, and it is a way of collecting data on a topic. Interviews are similar to the open questions on surveys in that the researcher asks subjects a series of questions. However, participants are free to respond as they wish, without being limited by predetermined choices. In the back-and-forth conversation of an interview, a researcher can ask for clarification, spend more time on a subtopic, or ask additional questions. In an interview, a subject will ideally feel free to open up and answer questions that are often complex. There are no right or wrong answers. Rather, the participants (subjects or respondents) are providing responses. The subject might not even know how to answer the questions honestly.
Questions such as, "How did society's view of alcohol consumption influence your decision whether or not to take your first sip of alcohol?" or "Did you feel that your parents filing bankruptcy would put a social stigma on your family?" involve so many factors that the answers are difficult to categorize. A researcher needs to avoid steering or prompting the subject to respond in a specific way; otherwise, the results will prove to be unreliable. And, obviously, a sociological interview is not an interrogation. The researcher will benefit from gaining a subject's trust, from empathizing or commiserating with a subject, and from listening without judgment. Interviews in sociology are generally broken down into two options:
Formal Interview – all questions and order are the same for each participant, ensuring the research maintains a systematic approach in each interview.
Informal Interview –

closer to a 'guided' conversation where the participant has a bit more control over the exchange.
Ethnographic Field Research
The work of sociology rarely happens in limited, confined spaces. Sociologists go out into the world and study people in their own social environments. They meet subjects where they live, work, and play. refers to gathering from a natural environment without doing a lab experiment or a survey. It is a research method suited to an interpretive framework rather than to the more empirical scientific method. To conduct field research, the sociologist must be willing to step into new environments and observe, participate, or experience those worlds. In field work, the sociologists, rather than the subjects, are the ones out of their element. Sometimes , field work, or field research is also referred to a . This means that in order to conduct the ethnographic research, the researcher must be an actual participant. The researcher interacts with or observes a person or people and gathers data along the way. The key point in field research is that it takes place in the subject's natural environment, whether it's a coffee shop or tribal village, a homeless shelter or the DMV, a hospital, airport, mall, or beach resort.
While field research often begins in a specific setting, the study's purpose is to observe specific behaviors in that setting. Field work is optimal for observing how people behave. It is less useful, however, for understanding why they behave that way. You can't really narrow down cause and effect when there are so many variables floating around in a natural environment.
Much of the data gathered in field research are based not on cause and effect but on correlations. This is because correlations emphasize relationships that help illustrate patterns and trends. Observation and participation in a culture does not yield scientific objective facts, but cultural practices, roles for individuals and groups, and social facts for both participants and outsiders. And while field research looks for correlation, its small sample size does not allow for establishing a causal relationship between two variables.
Ethnography is the extended observation of the social perspective and cultural values of an entire social setting. Ethnographies involve objective observation of an entire community. The heart of an ethnographic study focuses on how subjects view their own social standing and how they understand themselves in relation to a community. An ethnographic study might observe, for example, a small U.S. fishing town, an Inuit community, a village in Thailand, a Buddhist monastery, a private boarding school, or an amusement park. These places all have borders. People live, work, study, or vacation within those borders. People are there for a certain reason and therefore behave in certain ways and respect certain cultural norms in this context. An ethnographer would commit to spending a determined amount of time studying every aspect of the chosen place, taking in as much as possible.
A sociologist studying a tribe in the Amazon might watch the way villagers go about their daily lives and then write a paper about it. To observe a spiritual retreat center, an ethnographer might sign up for a retreat and attend as a guest for an extended stay, observe and record data, and collate the material into results.
Some sociologists study small groups of people who share an identity in one aspect of their lives. Almost everyone belongs to a group of like-minded people who share an interest or hobby. Scientologists, folk dancers, or members of Mensa (an organization for people with exceptionally high IQs) express a specific part of their identity through their affiliation with a group. Those groups are often of great interest to sociologists.
Participant Observation
This type of ethnography lets researchers experience a specific aspect of social life. A researcher might go to great lengths to get a firsthand look into a trend, institution, or behavior. Researchers temporarily put themselves into roles and record their observations. A researcher might work as a waitress in a diner, live as a homeless person for several weeks, or ride along with police officers as they patrol their regular beat. Often, these researchers try to blend in seamlessly with the population they study, and they may not fully disclose their true identity or purpose if they feel it would compromise the results of their research.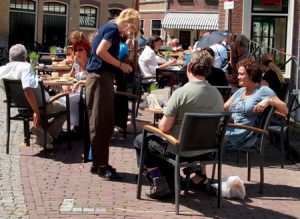 At the beginning of a field study, researchers might have a question: "What really goes on in the kitchen of the most popular diner on campus?" or "What is it like to be homeless?" Participant observation is a useful method if the researcher wants to explore a certain environment from the inside.
Field researchers simply want to observe and learn. In such a setting, the researcher will be alert and open-minded to whatever happens, recording all observations accurately. Soon, as patterns emerge, questions will become more specific, observations will lead to hypotheses, and hypotheses will guide the researcher in shaping data into results.
In a study of small towns in the United States conducted by sociological researchers John S. Lynd and Helen Merrell Lynd, the team altered their purpose as they gathered data. They initially planned to focus their study on the role of religion in U.S. towns. As they gathered observations, they realized that the effect of industrialization and urbanization was the more relevant topic of this social group. The Lynds did not change their methods, but they revised their purpose. This shaped the structure of Middletown: A Study in Modern American Culture, their published results (Lynd and Lynd 1959).
The Lynds were upfront about their mission. The townspeople of Muncie, Indiana, knew why the researchers were in their midst. But some sociologists prefer not to alert people to their presence. The main advantage of covert participant observation is that it allows the researcher access to authentic, natural behaviors of a group's members. The challenge, however, is gaining access to a setting without disrupting the pattern of others' behavior. Becoming an inside member of a group, organization, or subculture takes time and effort. Researchers must pretend to be something they are not. The process could involve role-playing, making contacts, networking, or applying for a job.
Recording interviews and using surveys to gather data, the Lynds did not sugarcoat or idealize U.S. life (PBS). They objectively stated what they observed. Researching existing sources, they compared Muncie in 1890 to the Muncie they observed in 1924. Most Muncie adults, they found, had grown up on farms but now lived in homes inside the city. From that discovery, the Lynds focused their study on the impact of industrialization and urbanization.
They observed that Muncie was divided into business class and working class groups. They defined business class as dealing with abstract concepts and symbols, while working class people used tools to create concrete objects. The two classes led different lives with different goals and hopes. However, the Lynds observed, mass production offered both classes the same amenities. Like wealthy families, the working class was now able to own radios, cars, washing machines, telephones, vacuum cleaners, and refrigerators. This was an emerging material new reality of the 1920s.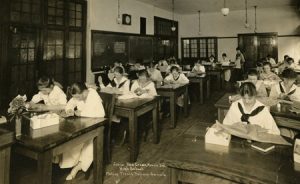 Once inside a group, some researchers spend months or even years pretending to be one of the people they are observing. However, as observers, they cannot get too involved. They must keep their purpose in mind and apply the sociological perspective. That way, they illuminate social patterns that are often unrecognized. Because information gathered during participant observation is mostly qualitative, rather than quantitative, the end results are often descriptive or interpretive. The researcher might present findings in an article or book and describe what he or she witnessed and experienced.
This type of research is what journalist Barbara Ehrenreich conducted for her book Nickel and Dimed. One day over lunch with her editor, as the story goes, Ehrenreich mentioned an idea. How can people exist on minimum-wage work? How do low-income workers get by? she wondered. Someone should do a study. To her surprise, her editor responded, Why don't you do it?
That's how Ehrenreich found herself joining the ranks of the working class. For several months, she left her comfortable home and lived and worked among people who lacked, for the most part, higher education and marketable job skills. Undercover, she applied for and worked minimum wage jobs as a waitress, a cleaning woman, a nursing home aide, and a retail chain employee. During her participant observation, she used only her income from those jobs to pay for food, clothing, transportation, and shelter.
She discovered the obvious, that it's almost impossible to get by on minimum wage work. She also experienced and observed attitudes many middle and upper-class people never think about. She witnessed firsthand the treatment of working class employees. She saw the extreme measures people take to make ends meet and to survive. She described fellow employees who held two or three jobs, worked seven days a week, lived in cars, could not pay to treat chronic health conditions, got randomly fired, submitted to drug tests, and moved in and out of homeless shelters. She brought aspects of that life to light, describing difficult working conditions and the poor treatment that low-wage workers suffer.
Institutional ethnography is an extension of basic ethnographic research principles that focuses intentionally on everyday concrete social relationships. Developed by Canadian sociologist Dorothy E. Smith, institutional ethnography is often considered a feminist-inspired approach to social analysis and primarily considers women's experiences within male-dominated societies and power structures. Smith's work is seen to challenge sociology's exclusion of women, both academically and in the study of women's lives (Fenstermaker, n.d.) Historically, social science research tended to objectify women and ignore their experiences except as viewed from the male perspective. Modern feminists note that describing women, and other marginalized groups, as subordinates helps those in authority maintain their own dominant positions (Social Sciences and Humanities Research Council of Canada, n.d.).
Content Analysis
This is a visual method that analyzing text, still image, or moving image to ascertain how people, places and things are represented in society. If one were interested in media representations of tween boys as violent, of course many people could be interviewed or surveyed about their opinions on the topics. But what if the researchers were interested in the actual image that is portrayed of boys, on video game advertisements, or in magazines geared toward young women. Content analysis would be helpful here, as it is analysis of the the representation of an image or text in media, with attention to purpose of the image, intended audience, and symbols and meanings relevant to the topic of study. When conducting content analysis, it is important to consider the date of an existing source and to take into account attitudes and common cultural ideals that may have influenced the research at that time. Context is very important for content analysis. For example, images of gay and lesbian youth in 1980 were received very differently by the mainstream than they were in 2015.
Content analysis may seem quite similar to the final research method. However, the key difference is content analysis is looking at text or image representation, while comparative historical secondary data analysis examines what is found in past data.
Comparative Historical Secondary Data Analysis
While sociologists often engage in original research studies, they also contribute knowledge to the discipline through secondary data analysis. Secondary data do not result from firsthand research collected from primary sources, but are the already completed work of other researchers. Sociologists might study works written by historians, economists, teachers, or early sociologists. They might search through periodicals, newspapers, or magazines from any period in history.
Using available information not only saves time and money but can also add depth to a study. Sociologists often interpret findings in a new way, a way that was not part of an author's original purpose or intention. To research changes in behavior and attitudes due to the emergence of television in the late 1950s and early 1960s, a sociologist would rely on new interpretations of secondary data. Decades from now, researchers will most likely conduct similar studies on the advent of mobile phones, the Internet, or Facebook.
One of the advantages of secondary data is that it is nonreactive research, meaning that it does not include direct contact with subjects and will not alter or influence people's behaviors. Unlike studies requiring direct contact with people, using previously published data doesn't require entering a population and the investment and risks inherent in that research process.
Using available data does have its challenges. Public records are not always easy to access. A researcher will need to do some legwork to track them down and gain access to records. It is easy to count how many drunk drivers, for example, are pulled over by the police. But how many are not? While it's possible to discover the percentage of teenage students who drop out of high school, it might be more challenging to determine the number who return to school or get their GED later.
Summary
Sociological research is a fairly complex process. As you can see, a lot goes into even a simple research design. There are many steps and much to consider when collecting data on human behavior, as well as in interpreting and analyzing data in order to form conclusive results. Sociologists use scientific methods for good reason. The scientific method provides a system of organization that helps researchers plan and conduct the study while ensuring that data and results are reliable, valid, and objective.
The many methods available to researchers—including interviews, surveys, ethnographic field studies, content analysis, and comparative historical secondary data analysis—all come with advantages and disadvantages. The strength of a study can depend on the choice and implementation of the appropriate method of gathering research. Depending on the topic, a study might use a single method or a combination of methods. It is important to plan a research design before undertaking a study. The information gathered may in itself be surprising, and the study design should provide a solid framework in which to analyze predicted and unpredicted data.
References
Butsch, Richard. 2000. The Making of American Audiences: From Stage to Television, 1750–1990. Cambridge: Cambridge UP.
Caplow, Theodore, Louis Hicks, and Ben Wattenberg. 2000. "The First Measured Century: Middletown." The First Measured Century. PBS. Retrieved February 23, 2012 (http://www.pbs.org/fmc/index.htm).
Durkheim, Émile. 1966 [1897]. Suicide. New York: Free Press.
Fenstermaker, Sarah. n.d. "Dorothy E. Smith Award Statement" American Sociological Association. Retrieved October 19, 2014 (http://www.asanet.org/about/awards/duboiscareer/smith.cfm).
Franke, Richard, and James Kaul. 1978. "The Hawthorne Experiments: First Statistical Interpretation." American Sociological Review 43(5):632–643.
Grice, Elizabeth. "Cry of an Enfant Sauvage." The Telegraph. Retrieved July 20, 2011 (http://www.telegraph.co.uk/culture/tvandradio/3653890/Cry-of-an-enfant-sauvage.html).
Heussenstamm, Frances K. 1971. "Bumper Stickers and Cops" Trans-action: Social Science and Modern Society 4:32–33.
Igo, Sarah E. 2008. The Averaged American: Surveys, Citizens, and the Making of a Mass Public. Cambridge, MA: Harvard University Press.
Lynd, Robert S., and Helen Merrell Lynd. 1959. Middletown: A Study in Modern American Culture. San Diego, CA: Harcourt Brace Javanovich.
Lynd, Staughton. 2005. "Making Middleton." Indiana Magazine of History 101(3):226–238.
Mihelich, John, and John Papineau. Aug 2005. "Parrotheads in Margaritaville: Fan Practice, Oppositional Culture, and Embedded Cultural Resistance in Buffett Fandom." Journal of Popular Music Studies 17(2):175–202.
Pew Research Center. 2014. "Ebola Worries Rise, But Most Are 'Fairly' Confident in Government, Hospitals to Deal with Disease: Broad Support for U.S. Efforts to Deal with Ebola in West Africa." Pew Research Center for the People & the Press, October 21. Retrieved October 25, 2014 (http://www.people-press.org/2014/10/21/ebola-worries-rise-but-most-are-fairly-confident-in-government-hospitals-to-deal-with-disease/).
Rothman, Rodney. 2000. "My Fake Job." Pp. 120 in The New Yorker, November 27.
Social Sciences and Humanities Research Council of Canada. n.d. "Institutional Ethnography." Retrieved October 19, 2014 (http://web.uvic.ca/~mariecam/kgSite/institutionalEthnography.html).
Sonnenfeld, Jeffery A. 1985. "Shedding Light on the Hawthorne Studies." Journal of Occupational Behavior 6:125.
when study subjects behave in a certain manner due to their awareness of being observed by a researcher
applying a systematic approach to record and value information gleaned from secondary data as it relates to the study at hand
collect data from subjects who respond to a series of questions about behaviors and opinions, often in the form of a questionnaire
a defined group serving as the subject of a study
small, manageable number of subjects that represent the population
a study's participants being randomly selected to serve as a representation of a larger population
represent research collected in numerical form that can be counted
comprise information that is subjective and often based on what is seen in a natural setting
a one-on-one conversation between the researcher and the subject
gathering data from a natural environment without doing a lab experiment or a survey
data that are collected directly from firsthand experience
observing a complete social setting and all that it entails
when a researcher immerses herself in a group or social setting in order to make observations from an "insider" perspective