Chapter 14: Introduction to Government and Politics
Introduction to Government and Politics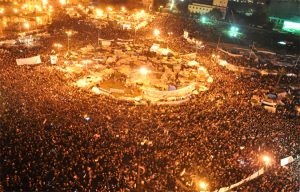 Political science is a social scientist that focuses exclusively on politics and government. Sociologists address political issues as well, with greater attention to how these political forces shape social life. The subfield of political sociology attends to politics and power as a social force present in society.
Hosni Mubarak had been the President of Egypt for nearly thirty years when massive public uprisings caused him to step down in 2011. Gaining the presidency in 1981 when President Anwar Sadat was assassinated, Mubarak had maintained his regime through a series of "monopoly" elections in which he was the only candidate. Popular unrest first drew significant notice in 2004, and by early 2011 thousands of Egyptians had begun protesting political oppression through demonstrations in the streets of several Egyptian cities, including the capital city of Cairo. There was sporadic violence between demonstrators and the military, but eventually, Mubarak resigned and left the country. Within a year, a free, multi-candidate election was held in Egypt.
The "Arab Spring" refers to a series of uprisings in various countries throughout the Middle East, including Algeria, Bahrain, Egypt, Iran, Jordan, Kuwait, Libya, Morocco, Oman, Syria, Tunisia, Qatar, and Yemen. The extent of protest has varied widely among these countries, as have the outcomes, but all were based on popular uprisings of the people, who were dissatisfied with their respective government leaders but were unable to create change by less extreme methods. In countries such as Tunisia and Egypt, revolution did involve some violence, but relatively less than in other Middle Eastern countries. In Libya, the repressive regime of Muammar Gaddafi was brought to an end after forty-two years. The number of causalities reported differs depending on the source; the exact number is still unknown, but it is estimated to be in the thousands.